REMEMBERING ERIC ROHMER:

THE PHILOSO-FILMMAKER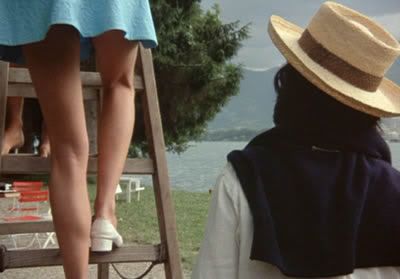 [Picture from Claire's Knee ]
1.
L'amour l'après-midi / Chloe in the Afternoon
(1972)
It's funny how I have the most fondness for the first Rohmer I watched. If this movie were made today or by anyone less capable than Eric Rohmer, the film might have seemed preachy instead of powerful.
2.
Le Beau Mariage / The Good Marriage
(1978)
If I were braver, I'd list this film as my favorite Rohmer. It is a scream, a riot. I recommend it to no one. It is just too insane and too many people outright hate it. However, Rohmer brings back lots of actors with whom he worked with previously. If you have seen most of his other films, this is like one big happy reunion. J'adore!
3.
Pauline à la plage / Pauline at the Beach
People accuse Rohmer of being too talky sometimes. But in this film he provides us with a beautiful beach setting. Things that are supposed to be perfect get out of hand. That's why I like it!
4.
Le Genou de Claire / Claire's Knee
This movie took me forever to figure out. It's about a middle-aged man who wants to get his hands on a young teenager whose mother encourages all this to take place. When I found out it was shocking, even for France, I was somehow relieved!
5.
Le Signe du lion / The Sign of Leo
I'll mention again that Rohmer's films are talky. Every film I have seen except this one, is decidedly locquacious. This was an earlier effort and is the closest to a "real" movie out of any of his films. It is a beautiful story, about a guy who is blessed and cursed by being born under the sign of Leo. So, still it contains some of his constant themes such as happenstance. Sure, there is talking, but the characters speak normally and there is no excess of dialog.
6.
Conte d'hiver / A Winter's Tale
Absolutely brilliant. People often complain that films are predictable. However, with the French you really have no clue. There are two drastic ways this film can go. When Rohmer chooses his ending, he goes hog-wild with it! Really, seriously one of the best endings. Ever.
7.
Conte d'été / A Summer's Tale
This would be about the best movie of all time. I did think the sea chanties were a bit lame and took away from the movie. But it is about a guy who can't find a girlfriend and all of a sudden there are three females clamoring for his attention.
8.
Ma nuit chez Maud / My Night at Maud's
This is among Rohmer's most famous films, in his body of work. It is about a man who has a specific preference for a type of woman. Sometimes Rohmer's characters surprise us, and it looks like our main guy played by Jean-Louis Trintignant just might. However, this is a character study of a man who just can't seem to break away from what he likes.
9.
Les nuits de la pleine lune / Full Moon in Paris
(1984)
This film features two of my favorite characters: Fabrice Luchini and Pascale Ogier. Rohmer may have excellent dialog, however when placed in the hands of extremely capable actors, his work absolutely soars. For the most part, Rohmer stayed away from very well-known actors. Whether it was due to budgetary restrictions or his own inclination, it still works for the most part. But the acting in this one is out of this world.
10.
Die Marquise von O / The Marquise of O
If this film does not leave you speechless, there is no hope for any of us.
11. L'Anglaise et le duc / The Lady and the Duke
12. Suzanne's Career
13. Les Rendez-vous de Paris
14. L'Ami de mon amie / Boyfriends and Girlfriends
15. La Collectionneuse / Collector Girl (1967)
16. La Femme de l'aviateur / The Aviator's Wife (1981)
17. Les amours d'Astrée et de Céladon / Romance of Astree and Celadon
18. Conte de printemps / A Tale of Springtime (1990)
19. La Boulangère de Monceau /The Girl at the Monceau Bakery
20. Triple agent
21. Le Rayon vert / The Green Ray
22. Conte d'automne / Autumn Tale
23. Perceval le Gallois (1978)
24. 4 aventures de Reinette et Mirabelle
Before I ever saw a Rohmer film, I saw Night Moves. Gene Hackman's character says, "I saw a Rohmer movie once. It was kind of like watching paint dry." I have to blatantly disagree with this remark.
When I first saw Chloe in the Afternoon, it was evident that Rohmer's films were coherently intelligent, and even more importantly, they contained a magical spark.
Cheers, Rohmer! Thank you for creating some of the most flavorful and lucid films ever created.